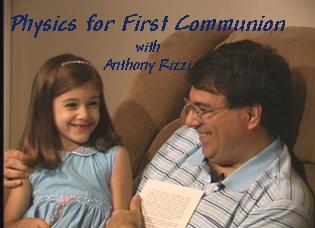 $35 donation...selecting this item adds $6 shipping (for a total of $41) so that we may send you the gift of our 9 episode DVD series Physics for First Communion described here.


Dr. Anthony Rizzi's armchair discussions using the principles in his children's book to prepare his six year old daughter for Holy Communion




What does physics have to do with Holy Communion? Though it surprises most, St. Thomas Aquinas teaches that the first physics is needed to understand Communion. Following his A Kids Introduction to Physics (and Beyond), this series reveals the simple connection between physics, our everyday world, and God. This preamble of the Faith has been all but forgotten. This series gives us, for the first time at the level of a 7 year old, this preamble in light of modern scientific thinking. It is the general framework for all of our knowledge given in simple terms, leading us from the things we see and hear as small children to the scientific method and finally proving the existence of God.




In this nine episode series, Dr. Rizzi uses these principles to prepare you and your children or students along with his six year old daughter to receive their first Holy Communion. The series unfolds as a charming discussion between a daddy and his daughter sitting in his lap. Dr. Rizzi is a husband and a father of four young children. He is known for his ability to make complex things simple, clear and understandable. (2 DVDs, approx. 4 hours total)


There are three reasons that this series is so important:

1. It teaches the first physics that all of us need to properly understand the basics of life. First Communion gives us the grace to grow from this base. This series gives us the ground upon which the graces of First Communion act on us to grow us for the rest of our Christian life.
2. Using this base, as just described, this series directly teaches the meaning of First Communion itself. It teaches what the Eucharist is and what happens at Mass and during Communion. Children, and parents and teachers along with them, will be given the whole understanding that can be given about our Lord in the Blessed Sacrament.
3. Children (and parents and teachers) will see that solid family relations are built on truth. And, all the truth we get stands on the basic physics. Relationship is emotional but it is right ordered emotion built on the truth. The father/daughter conversation models how to do this, while it highlights the importance of developing family ties. Personal relationship is always a deep part of learning, for we are social animals (because we are rational animals). Our first and primary relationships, where we learn how to think and love, are in the family. The informal communication around the essential topic of the foundational physics and the summit and source of our faith, the Blessed Sacrament, reveals and models why and how family relationships are primary. Our later thinking and personal relationships, including our relationship with God, will depend on this.